The Shop is the place where you can buy Pokémon TCGO Digital Packs with
Trainer Tokens (originally called Booster Points).
In the featured section of the Shop you can either see the three newest items or the the three most popular items.
Theme Decks
Edit
You can buy Theme Decks for 500 Trainer Tokens here.
Booster Packs
Edit
You can buy 10 Card Booster packs for 200 Trainer Tokens here. You can also get special bundles.
You can buy Sleeves, Deck Boxes and Avatar Booster Packs for Trainer Tokens here.
Removed Sections
Edit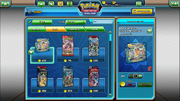 You could buy 5 card
Booster Packs here
for 95 Trainer Tokens before February 3rd, after that you could buy 10 card Booster Packs for 200 Trainer Tokens and Theme
Decks
remain 500 each. You could also sometimes get other special offers. The items could also be bought with Gems. Items bought with Gems are tradable unlike the items bought with Trainer Tokens.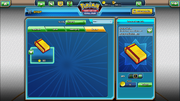 You could buy items for your trainer.